If you've made you're way here to BaseCrawl.com, you might think this Web site is all about baseball. But events over the past few days have taught the three of us that this quest is more about friendship than a game played on a field.
We're on a mission to attend one game in all 30 Major League ballparks, but one of our crew members won't be making it the entire way. Nolan has written a heartfelt blog explaining his decision to leave our basecrawl. Can you blame a fool for being in love? We certainly can't.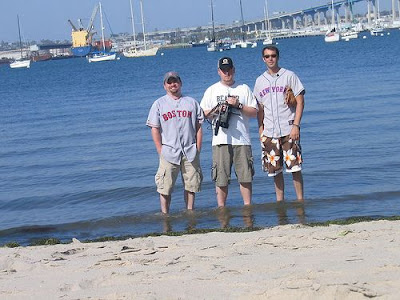 But don't fret. Nolan will be with us for a few more days before heading home to Twin Falls, Idaho. And then he'll be rejoining the basecrawl in mid-July for a three-game stint on the East Coast.
In the meantime you can read Daren's latest blog entry: "San Diego: Half the traffic, twice the mustard." Daren the die-hard Mets fan watched his favorite team lose to the hometown Padres in the most excruciating fashion: With bases loaded in the bottom of the ninth, Mets pitcher Scott Schoeneweis beaned the Padres' Paul McAnulty to end the game. The subject of our video on San Diego will be the psychology, sociology and physiology of fandom, not to mention its similarity to tribalism.
We also visited a most peculiar place before the game: Ben Harroll's P.I. Museum. Don't think that had anything to do with baseball? Wait until you see our footage from this stop.
We left San Diego at 11 p.m. on an all-night drive to Denver. But earlier in the day the three of us were able to dip our feet into the Pacific Ocean (pictured above). Look for similar rituals when we hit the Great Lakes, the Atlantic and the Gulf of Mexico.
Later …